Charlene's Story – Knee Replacement
Date Submitted: Aug 29, 2023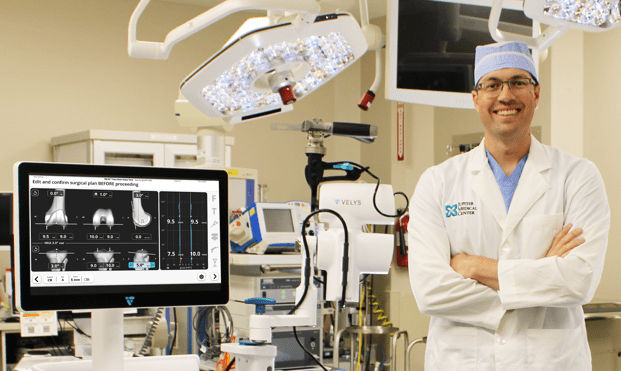 Charlene, retired from a successful career, lives an active life in South Florida, often walking, swimming and bike riding. Walking is a favorite activity, especially when she visits with her daughter's family -including two very active grandsons.
Charlene had been seeing Gavin Hart, MD, Orthopedic Surgeon (pictured here), for years for treatment of her knee pain. She had tried gel shots and cortisone, and at first those therapies provided relief. But after their effectiveness had waned, Charlene says, "I said that's it. It's time to do a knee replacement." Dr. Hart recommended the VELYS, an innovative minimally invasive robotic assisted technology that provides for smaller incisions and reduced recovery time for most knee replacement patients.
"I've been with Dr. Hart for years, first when I lived in Boca Raton, and then when I moved up to Vero Beach, and I didn't want to change doctors. He is just so good and caring, so I stuck with him," Charlene explains. With family in both the Jupiter and Palm Beach Gardens areas, continuing with her treatment plan under Dr. Hart's care at Jupiter Medical Center's Anderson Family Orthopedic and Spine Center of Excellence just made sense.
"I wasn't nervous about having the knee replacement," says Charlene. "It was time to do it, and I was excited." At the end of February, Charlene went in for the procedure, and followed Dr. Hart's prescribed course of rehabilitation for four weeks after surgery.
Charlene had at-home rehab and went back to see Dr. Hart about a month after the procedure. "He couldn't believe how well I was walking already," Charlene says. "My range of motion and the way I was walking in such a short time was great."
Following her rehab and post-operative consultations with Dr. Hart, Charlene was ready to get back to her active routine. "My daughter and my two grandsons came to visit me for a whole month after the procedure," says Charlene. "They are two and four years old, and they do not sit down! But I was able to keep up with the boys and it was so much better than before I had the replacement."
This summer, Charlene's family came to visit again. "Just three months after surgery, I was able to run around with the boys at the park, at the beach, or wherever we wound up. I could not believe it," she says. "I cannot say enough about Dr. Hart and Jupiter Medical Center. I am now seven months out from surgery and my knee has healed so well that I forget at times that I even have a replacement!"