Maternity
Online Maternity Pre-Registration
Check registration off your to-do list virtually
At Jupiter Medical Center, we are dedicated to making your delivery day as seamless as possible. Registering before your hospital stay will speed up the process and help you feel prepared for your special moment.
A Family Affair
Your little one deserves the best. And so do you. That's exactly what you'll get at the Florence A. De George Children's & Women's Services obstetrics unit at Jupiter Medical Center. We provide expert care for mother and baby in a state-of-the-art facility with all the comforts of home.
Jupiter Medical Center delivers more than 2,000 babies each year. World-class, compassionate care, support services before, during and after delivery, and luxurious accommodations are just some of the reasons Jupiter Medical Center has been voted the "Best Place to Have a Baby" by The Palm Beach Post readers.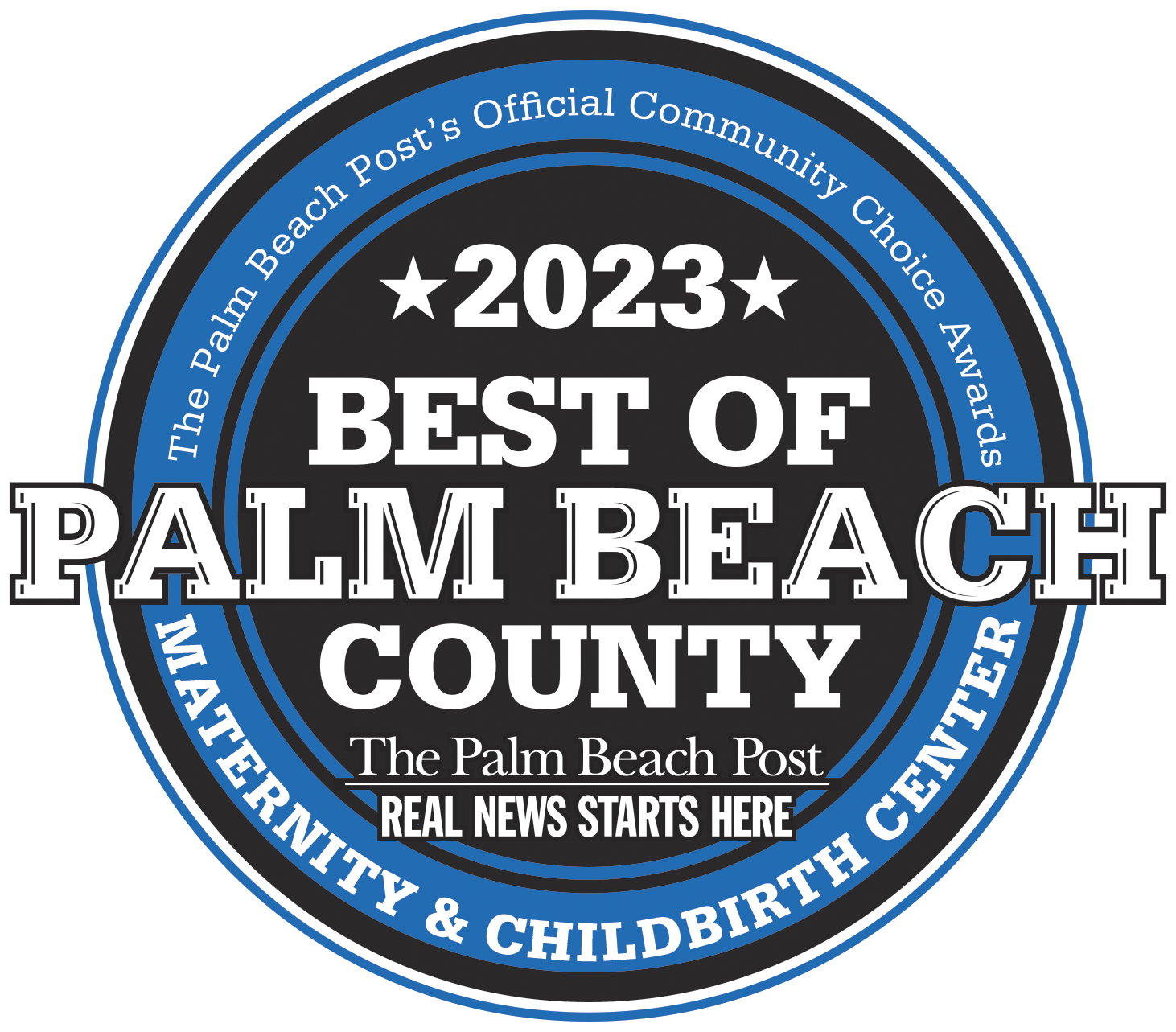 From hearing your baby's heartbeat for the first time to adjusting to all the challenges of parenthood, Jupiter Medical Center is here to support you on the journey.
When you are expecting, we are more than expected.
Florence A. De George Children's & Women's Services Obstetrics Unit

Nestled within our world-class hospital, you'll find the Florence A. De George Children's & Women's Services obstetrics unit. Our suites comfortably accommodate labor partners overnight, while the lounge allows loved ones to gather nearby, which makes welcoming your baby a family experience.
The unit features:
8 Labor rooms
2 State-of-the-art operating suites
17 Post-delivery rooms
Level II De George Neonatal Intensive Care Unit (NICU)
Preparing for your baby's arrival is an exciting time. Even when you've planned every detail, your little bundle of joy may decide to make a debut before your due date. Jupiter Medical Center's Level II De George Neonatal Intensive Care Unit (NICU) is equipped to care for babies born as early as 32 weeks.
The unit is equipped with:
16 Beds
Treatment rooms
Feeding preparation space
Family lounge
2 Isolation rooms
2 Private nesting rooms
Advanced monitoring and technology
Access to world-class neonatologists
Preparing for Your Baby
At Jupiter Medical Center, we understand that a baby's arrival is more joyful when the parents feel prepared. That's why we have designed classes and groups to help everyone plan for and adjust to the newest member of the family. Currently some classes are virtual and others have resumed meeting in-person, visit the events section of our website for upcoming classes.
We offer the following classes
Childbirth class
Newborn care class
Breastfeeding class
Gestational Diabetes Management Program
Gestational diabetes is a temporary condition in which hormonal changes during pregnancy prevent your body from producing enough insulin. Jupiter Medical Center offers a Gestational Diabetes Management Program, which includes blood glucose monitoring, exercise and meal planning, and lifestyle adjustment. Our goal is to help women understand the problem and manage their health during pregnancy to prevent future complications. If you have been diagnosed with gestational diabetes, please contact our Diabetes Education Team at 561-263-5067, they can provide education and support.
A Personalized Birthing Experience
So your delivery can be a true family experience, our suites offer overnight facilities to accommodate fathers or labor partners. We also offer a lounge so family can be nearby and loved ones can share in the joyous occasion.
Your first decision as a parent will be one of the most important you ever make - choosing your baby's birthplace. To ensure that your individual needs and preferences are met, we provide you with many options and, of course, the information and emotional support to help you choose with confidence the care best suited for your family.
New Options for Pain Relief
Jupiter Medical Center is putting the power of pain management in your hands. We now offer nitrous oxide, commonly referred to as "laughing gas," for pain relief during labor. The mixture of nitrous gas and oxygen is inhaled through a mask, which allows delivering moms to breathe it in when they feel the need. As the only labor pain relief method that is cleared through the lungs, the effects of nitrous oxide are gone within a breath or two. It has no known effects on the baby and can be used in conjunction with other methods of pain management, including epidurals.
Preparing for Your Stay
Pre-registration is required, please call 561-263-2181. to schedule your appointment. Pre-registration is recommended around your 5th month of pregnancy.
Where do I go?
Please use the Petrocelli Emergency Department entrance when you arrive to deliver your baby. If you have a scheduled induction or C-Section please use the East entrance of the hospital. If you are scheduled for a midnight induction please use the Petrocelli Emergency Department entrance.
Jupiter Medical Center

We want to help you! If you have questions about our services and what we can offer you and your loved ones, please reach out.