Gift Shop
________
Gift Shop Hours of Operation: (Hours are subject to change)
Monday - Friday
9 a.m. - 4 p.m.
Location: East Lobby entrance
Jupiter Medical Center's Gift Shop, located in the new East Lobby entrance, is a convenient stop to purchase a gift for family, friend, patient, or even a "thank you" token for a healthcare provider. The Gift Shop is operated by Jupiter Medical Center's Auxiliary (volunteers) and stocks a variety of items, such as greeting cards, flower arrangements (delivered fresh daily), candy, magazines, sundries, unique gift items, plush items, and jewelry as well as blankets and specialty items for the "little ones."
The gift shop can take orders over the phone and gifts will be delivered to patients with no delivery charge. Just call 561-263-3688.
The Gift Shop serves patients, family and friends and Jupiter Medical Center Team Members. Proceeds from the sale of items are returned to the hospital through Auxiliary pledges earmarked to improve the quality of patient and visitor services.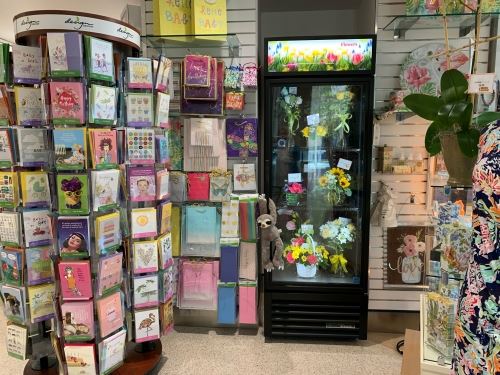 The Gift Shop accepts Visa, Mastercard, and Discover.



Jupiter Medical Center

We want to help you! If you have questions about our services and what we can offer you and your loved ones, please reach out.