Jupiter Medical Center First in South Florida to Use OPTRELL Mapping Catheter
The leader in quality, safety and patient experience, Jupiter Medical Center is pleased to announce it is the first in South Florida, to introduce the OPTRELL Mapping Catheter, an innovative tool to treat atrial fibrillation (AFib) and other complex arrhythmias. The technology, introduced by BioSense Webster, part of Johnson & Johnson MedTech, provides cardiologists and cardiac electrophysiologists with enhanced precision in high-resolution directional mapping in an ablation procedure. The catheter technology increases overall efficacy of the procedure through a reduction in mapping time while increasing the successful identification of arrhythmia sites in the patient.
Matthew Kolek, MD, MSC, specializes in the treatment of complex cardiac arrhythmias at Jupiter Medical Center's AFib Center of Excellence within The Robson Heart & Vascular Institute. Dr. Kolek was selected as the first in South Florida by BioSense Webster to launch this medical technology for his commitment to innovation in the field of electrophysiology. He successfully utilized the OPTRELL Mapping Catheter on a patient at Jupiter Medical Center in late May.
"This is an exceptional addition to the leading-edge technology available to patients at Jupiter Medical Center," said Dr. Kolek, board-certified in both cardiac electrophysiology and cardiology. "For patients with complex arrhythmias, the OPTRELL allows us enhanced and efficient mapping capabilities in a minimally invasive ablation procedure."
Jupiter Medical Center and Dr. Kolek were selected to utilize this state-of-the-art technology by BioSense Webster, due to Kolek's reputation as a highly experienced electrophysiologist and to the hospital's reputation for its full complement of high-quality cardiovascular services to ensure exceptional patient outcomes.
"We are very excited to be the first across South Florida to implement the OPTRELL," said Dr. Kolek.
"Providing our community with access to the newest technology is Jupiter Medical Center's mission. New technologies, such as the OPTRELL, provide access to cutting-edge treatments for our patients," says Rogerio C. Lilenbaum, MD, FACP, FASCO, Senior Vice President and Chief Physician Executive of Jupiter Medical Center. "The Robson Heart and Vascular Institute has grown remarkably through the innovation of expert physicians like Dr. Kolek. Our team's commitment to providing high-caliber cardiac care with a full range of minimally invasive and traditional treatment options has made us the clear choice for patients and their physicians."
Jupiter Medical Center's Robson Heart & Vascular Institute's excellent reputation for clinical excellence, quality, safety and patient experience make it the destination for a wide range of heart conditions. Jupiter Medical Center provides a full continuum of care, including preventive cardiology, noninvasive diagnostic procedures, interventional cardiology and advanced electrophysiology for arrhythmias such as atrial fibrillation, along with open heart surgery and cardiac rehabilitation. For three consecutive years, the Institute has been voted by The Palm Beach Post's readers as "Best Heart Center" in the annual Community Choice Awards.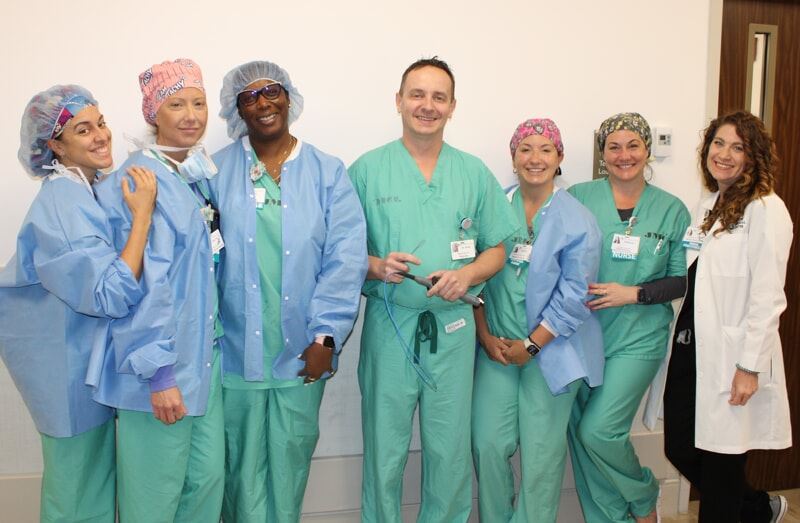 Matthew Kolek, MD, MSC, Electrophysiologist, center, and team at Jupiter Medical Center
For more information about Jupiter Medical Center, visit jupitermed.com, call the Structural Heart and Valve Coordinator at 561-263-3767, or follow Jupiter Medical Center on Facebook and Instagram @jupitermedicalcenter.
###
ABOUT JUPITER MEDICAL CENTER
Rated #1 in the region for quality, safety and patient experience, Jupiter Medical Center is the leading destination for world-class health care in Palm Beach County and across the Treasure Coast. Jupiter Medical Center's state-of-the-art facilities and cutting-edge technologies enable its award-winning physicians to provide a comprehensive continuum of inpatient and outpatient health care services. Jupiter Medical Center's specialty centers of excellence include: comprehensive cancer care, cardiovascular care, orthopedics, neurosciences, and women's and children's services. For more information about Jupiter Medical Center, please call 561-263-2200 or visit www.jupitermed.com.