Lois's Story
Author: Lois Palko
Date Submitted: May 15, 2023
Category: Gastrointestinal Oncology Program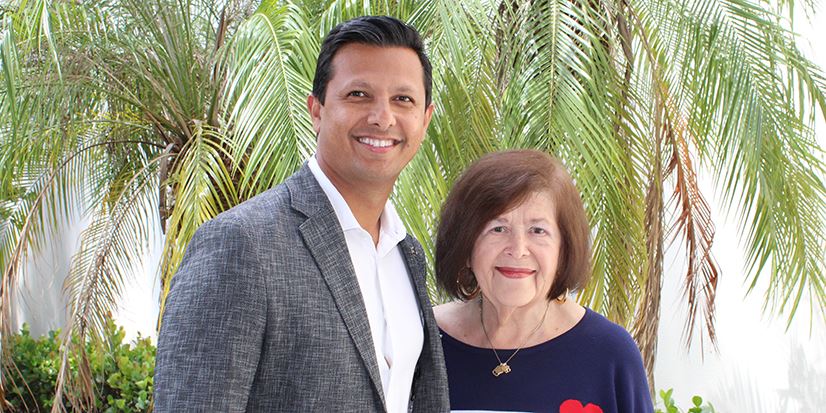 " "I cannot say enough about Dr. Bhagwandin. He is an expert surgeon, kind, caring, compassionate and absolutely the best I could ever have asked for.""
In 2008, still living in New York, I had an abnormal mammogram. I had routinely gotten an annual mammogram and pap smear which had always been normal. Additional views were required, and a biopsy was performed. I was at the drugstore on a Friday when I received a call telling me I had cancer. I called my daughter, who was vacationing in Florida, and then went home to tell my family. My surgeon recommended a lumpectomy, there was no fear, no worries, I was certain everything would be okay. The lumpectomy was followed by radiation therapy, no chemotherapy was needed. Of note my doctor suggested a colonoscopy, I did not have one.
Fast forward to 2022, we had moved to Florida to be closer to one of our daughters. I was at a Christmas party and noticed a change in bowel habits. Other than that, I had no noticeable symptoms. I had a challenging time finding a physician, I had a friend who was a nurse, so I discussed this with her. She was able to get an appointment with a nurse for me, I was seen and scheduled for a colonoscopy. I only met the gastroenterologist when he came in for the procedure. After the colonoscopy he told me I needed a surgeon. I did not find this gastroenterologist to be kind or caring, in fact I found him to be quite rude. He referred me to someone in Lake Worth who wanted me to go to a hospital in that area
I had already started looking at hospitals in the area and decided that if I needed anything done it would be at Jupiter Medical Center. My daughter and I both began searching for a surgeon, independently we each found Dr. Shanel Bhagwandin and the Anderson Family Cancer Institute. My daughter called to tell me she had found someone, when she told me it was Dr. Bhagwandin, I told her that was who I had found as well and who I wanted to see. To this day we argue about who found him first!
I spoke with Anita in the office to make an appointment, she was wonderful. Everyone I encountered was great, Mariel the oncology nutritionist was an immense help to me. Jon, my patient navigator, was wonderful and I cannot say enough about Dr. Bhagwandin. He is an expert surgeon, kind, caring, compassionate and absolutely the best I could ever have asked for. I had surgery to remove my colorectal cancer and have started oral chemotherapy.
As I look back, I do not know why I never had a colonoscopy, I just did not. I had my other routine screenings but not that one. If I had it would have been found much sooner. My message is to get all your routine screenings done; it could save your life.