Pediatric Emergency Services
The Mastroianni Family Pediatric Emergency Department is a separate wing with dedicated pediatric physicians and nurses available 24/7. We treat more than 3,000 youngsters each year—nursing them back to health from illness and injury, while making them feel comfortable and safe. We also provide innovative Telehealth technology, enabling Nicklaus Children's Hospital specialists to interact with our physicians and patients to discuss images and lab results, and capture vital assessment information in real time.
Our Emergency Department also provides: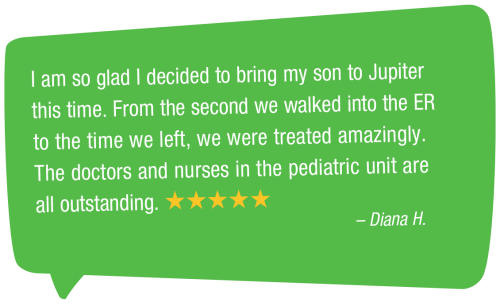 Dedicated pediatric physicians and nurses available 24/7.
Nursing staff additionally trained in the care of children. They are eager to care for your child and their needs.
Eight treatment rooms, including an orthopedic room and two triage areas.
Medical equipment designed specifically for smaller patients.
Pediatric paramedics
Other pediatric sub-specialists available
Toys, interactive games and kid-sized furniture to help reduce the stress of being in an emergency room.
A Child Life Specialist on-site to help your child navigate the potentially emotionally and physically demanding process of coping with hospitalization through age appropriate explanations. For information, call 561-263-3155.
Jupiter Medical Center

We want to help you! If you have questions about our services and what we can offer you and your loved ones, please reach out.