Pediatric Inpatient Unit
From newborns and toddlers, adolescents to young adults up to age 21, the De George Pediatric Unit is a comprehensive, family-centered environment, featuring state-of-the-art medical and therapeutic services.
We provide hospital-based pediatric services in our community, alleviating the stress and financial burden of leaving the area for treatment.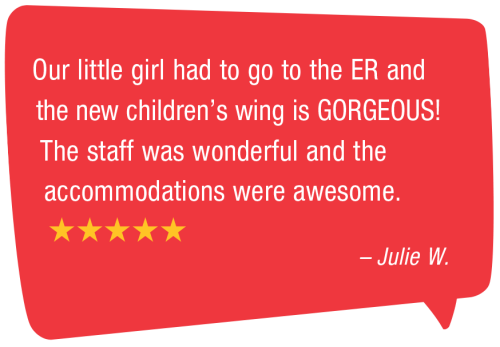 The De George Pediatric Unit is a family-centered environment offering compassionate care.
12 Inpatient Pediatric Rooms
Pediatric Surgery Suites
Children's Playroom
Accepting newborns, toddlers, adolescents and young adults up to age 21
Continuous cardiac and oxygen saturation monitoring, for children who need a higher level of care
Bear's Den for resting (names after Jack "The Golden Bear" Nicklaus)
Pediatric services we offer:
Anesthesiology
Cardiology
Dermatology
Diabetes Education
Emergency
Endocrinology
Ear, Nose, Throat
Gastroenterology
General Surgery
Hematology/Oncology
Neurology
Nutrition Counseling
Ophthalmology
Orthopedics (hand, spine)
Podiatry
Pulmonology
The De George Pediatric Unit at Jupiter Medical Center is a proud partnership with the Nicklaus Children's Hospital, part of the Nicklaus Children's Health System, and the Lawrence J. and Florence A. De George Charitable Trust.
Jupiter Medical Center

We want to help you! If you have questions about our services and what we can offer you and your loved ones, please reach out.