Meet Mary Imle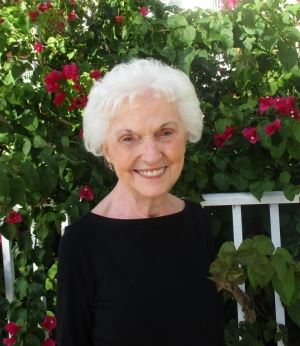 40 Years Of Service
I interviewed Mary at Mangrove Bay where, at the age of 93, she is President of the Resident Council, and leads the water aerobics class when the Activities Director is unavailable.
When Mary came to town in 1980, the third 'leg' of the Medical Center, the East Entrance and patient tower, was barely a year old. The Auxiliary's Gift Shop, which had opened on Valentine's Day 1979, became Mary's first volunteer assignment. She found a shop with no records, no pricing policy, and a very limited inventory – "candy bars, and at least 50 salt & pepper shakers", she says. Cash was kept in a cardboard box, and a muffin tin held the change. Mary had no retail experience, but her first friend in town ran a gift shop in Tequesta, and she helped Mary set up a proper shop and even shared some inventory with her. Mary ordered the shop's first cash register, and had the volunteers trained to use it.
But Mary already had her sights on another assignment, and after a year she persuaded the Auxiliary President to let her create a new position. In those days the switchboard was wide open to the lobby, and the operators were often interrupted by visitors. Mary started sitting with them, answering visitors' questions and giving them room numbers. But there was also a phone off to the side which would ring with requests for someone to run errands, and Mary started answering that. Before long, she arranged for a proper desk in the lobby, to be staffed by volunteers. The Escort Desk was born, with Mary as the first Dispatcher, a position she held for almost 30 years, from 1981-2010.
It is Mary's nature to be helpful, and when she wasn't staffing the main lobby, she could be found in Family Waiting, which in those days included not just surgery, but also ICU, Radiology, and Cardio-pulmonary, and was located in the current ICU Family Waiting Room. When asked about her favorite job, however, there was no hesitation: "Greeter is my absolute favorite job." She was one of the original Greeters when the program began in 2009, and she looks forward to getting back to work.
But Mary is not one to sit still. Even in the midst of the COVID pandemic, she found a way to volunteer: every month she collects donated items from the other residents and arranges for our Thrift Shop truck to come to Mangrove to pick them up. Reflecting on her years of service, Mary says she is grateful for the privilege of being a part of the growth of the Medical Center. She gives thanks for the regular training that volunteers receive, which enables us to better serve our community. "It is that sense of community that sets us apart," she says. And most of all, she is grateful for the many lasting friendships that have blessed her many years at JMC.
Jupiter Medical Center

We want to help you! If you have questions about our services and what we can offer you and your loved ones, please reach out.