Amit Rastogi, MD, MHCM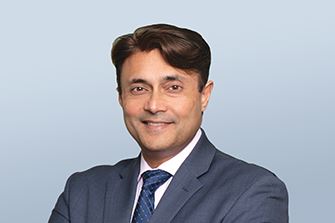 Amit Rastogi, MD, MHCM
President & Chief Executive Officer
Dr. Amit Rastogi is the president and chief executive officer of Jupiter Medical Center. The first physician leader in Jupiter Medical Center's history, Rastogi provides strategic direction and leadership as the medical center expands the breadth and depth of its clinical services and evolves into a regional health system.
Prior to joining Jupiter Medical Center, Dr. Rastogi held executive roles at Yale New Haven Health, serving as chief medical officer, chief operating officer, and interim chief executive officer. During his tenure, he instituted numerous safety and quality initiatives and helped implement healthcare technology solutions. Dr. Rastogi has also served as senior vice president of strategy, growth and innovation at Inova Health, Virginia's leading health care system, where he led health system strategy, developed innovative care models, and oversaw marketing and philanthropy.
Board certified in internal medicine, Dr. Rastogi has more than 15 years of clinical practice experience. He earned his medical degree from the University of Medicine and Dentistry of New Jersey and pursued postgraduate training at Brigham and Women's Hospital-Harvard Medical School and St. Vincent's Medical Center-Yale School of Medicine.
Dr. Rastogi holds a master's degree in healthcare management from Harvard University and a certificate in Artificial Intelligence from Massachusetts Institute of Technology. He is a 2024 candidate for Johns Hopkins University Masters in Healthcare Quality and Patient Safety. He lectures internationally on topics such as healthcare technology, healthcare economics and genomics.
Since joining Jupiter Medical Center, Rastogi has been named one of "50 Power Leaders in Healthcare" by the South Florida Business Journal, and Palm Beach Illustrated included him in the "Palm Beach 100 - Palm Beach County's Most Influential Business Leaders" for 2020 and 2021. Dr. Rastogi is co-chair of the Palm Beach Tech Association's CEO Peer Group. He is also a member of the Palm Beach North Chamber of Commerce Board of Directors, the Florida Hospital Association's Policy Committee, the Economic Council of Palm Beach County, and the Business Development Board's Life Sciences Advisory Council.
Jupiter Medical Center

We want to help you! If you have questions about our services and what we can offer you and your loved ones, please reach out.