Mako Technology Partial Knee
Mako Robotic-Arm Assisted Surgery Partial Knee Resurfacing and Replacement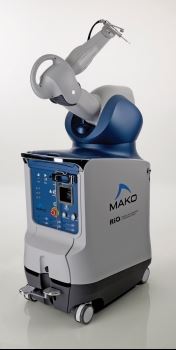 Mako Robotic-Arm Assisted Surgery is a treatment option for those living with early to mid-stage osteoarthritis in either the medial (inner), patellofemoral (top), or both compartments of the knee. If osteoarthritis (OA) is present in all three compartments of the knee, it is considered advanced, and you would not be a candidate for partial knee resurfacing.
Mako is a robotic-assisted partial knee resurfacing procedure designed to relieve the pain caused by joint degeneration due to OA. By selectively targeting the part of your knee damaged by OA, your surgeon can resurface your knee while sparing the healthy bone and ligaments surrounding it.
A minimally invasive procedure, Mako Robotic-Arm Assisted Surgery can often be performed through a 4- to 6-inch incision over the knee with small incisions in both the femur (thighbone) and tibia (shin). Since healthy bone is preserved, patients who undergo Mako partial knee procedures may still be a candidate for a total knee replacement procedure later in life, if necessary.
The Mako procedure is indicated for patients suffering from unicompartmental or bicompartmental knee disease. A total replacement is sometimes necessary if your surgeon discovers during surgery that your knee has more damage than originally shown in the preoperative X-rays and CT scan.
Jupiter Medical Center

We want to help you! If you have questions about our services and what we can offer you and your loved ones, please reach out.