Shoulder
Shoulder and elbow pain affects people of all ages, whether you're an active, athletic young adult or an older adult experiencing the aches and pains of aging.
People experiencing stiff, achy or injured shoulders and elbows in Palm Beach County and the Treasure Coast can find expert care for common shoulder problems at The Anderson Family Orthopedic & Spine Center at Jupiter Medical Center.
Our trained orthopedic surgeons treat conditions ranging from torn rotator cuffs to shoulder fractures, and fractures, dislocation and osteoarthritis of the elbow.
The Jupiter team is widely recognized for excellent patient outcomes for minimally invasive procedures, such as total shoulder replacement that spares the rotator cuff. At Jupiter, you'll also find one of the few U.S. orthopedic surgeons who specializes in the repair of torn pectoral muscles.
What Will You Experience at Jupiter Medical Center?
The Anderson Family Orthopedic & Spine Center of Excellence at Jupiter Medical Center offers comprehensive care, including:
A team of surgeons, pain management specialists, anesthesiologists, nurses and therapists
Surgical and nonsurgical therapies to relieve pain and improve function
Post-operative inpatient and outpatient physical therapy and rehabilitation to help patients recover from surgery and move again without pain or limitation
A dedicated orthopedic and spine navigator to guide you with education and support
Explore common procedures and surgeries at the Jupiter Health Library. Learn about:
Initial treatment for shoulder and elbow conditions begins wtih a comprehensive evaluation. You and your surgeon will decide when the time is right for shoulder or elbow surgery.
The Jupiter team has earned nationally recognized Joint Commission certification in total joint replacements for hips, knees, shoulders, and spine.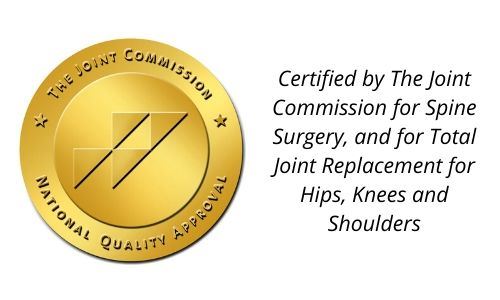 Jupiter Medical Center

We want to help you! If you have questions about our services and what we can offer you and your loved ones, please reach out.